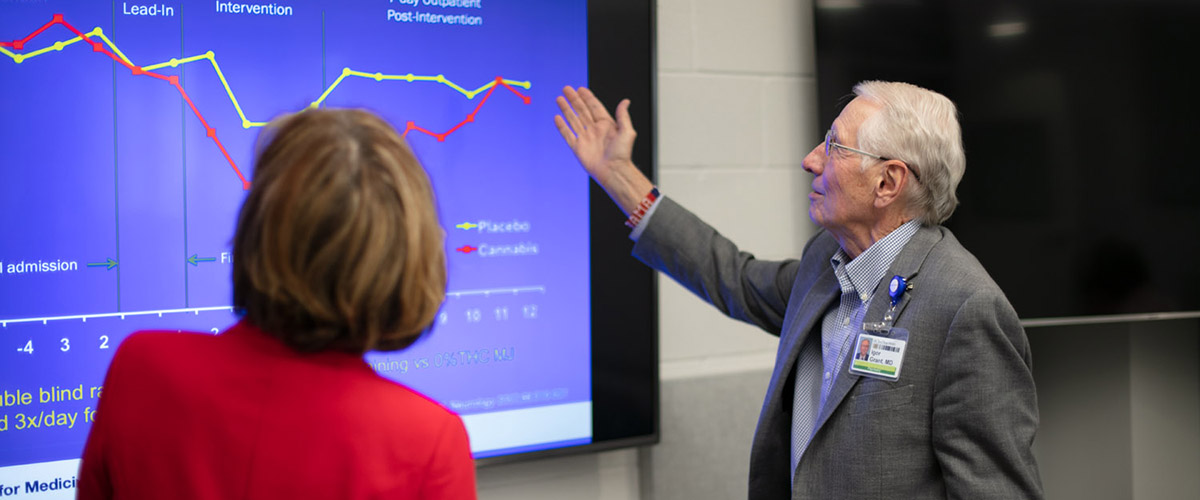 Center for Medicinal Cannabis Research
Established in 2000, the UC Center for Medicinal Cannabis has been at the forefront of advancing science and policy relating to the potential clinical benefits and limitations of cannabis and cannabinoids as medicine. With support from the California State Legislature, the CMCR initiated the first therapeutic studies using smoked cannabis in over 20 years, completed key studies regarding the short-term benefits of cannabis for the treatment of neuropathic pain and spasticity, and has an active, ongoing program of research. Over the years the Center has established close and productive relationships with key Federal and State agencies, has significantly impacted policy, and remains a national leader in the field.
Center History
The CMCR was established pursuant to California Senate Bill 847 (Vasconcellos, 1999), passed by the California State Legislature and signed into law by then Governor Gray Davis. The legislation called for a program overseeing objective, high quality medical research that would "enhance understanding of the efficacy and adverse effects of marijuana as a pharmacological agent" (SB 847). This included conducting clinical and pre-clinical studies of cannabinoids, including smoked marijuana, to provide evidence whether marijuana has therapeutic value.
More recently, in 2018 through California Proposition 64 (Adult Use of Marijuana Act) the CMCR began receiving annual funds to "[enhance our] understanding of the efficacy and adverse effects of marijuana as a pharmacological agent." With these funds, the CMCR has established a grants program that funds primary and pilot studies that further the Center's mission, including examining the treatment of medical and psychiatric disorders, as well as the potential public health impacts of cannabis use. In addition to supporting clinical and basic science studies conducted at research institutions throughout California, the CMCR also conducts studies funded by various sources (e.g. NIH, State of California, philanthropy).
Research Activities
Research Accomplished
Funding provided by the California State Legislature was utilized to address areas identified as holding promise for beneficial effects of cannabis, as outlined by the National Academy of Sciences, Institute of Medicine Report (1999) and the Workshop on the Medical Utility of Marijuana, National Institutes of Health (1997), including neuropathic pain and spasticity. This emphasis was also informed via guidance from the CMCR Scientific Advisory Board (SRB), an independent committee of internationally-recognized subject matter experts. Following review by the SRB, the CMCR conducted the first clinical trials of smoked cannabis as a therapeutic agent in more than 20 years.
These CMCR-funded studies were conducted at five UC campuses (San Diego, Irvine, Los Angeles, San Francisco, and Davis), as well as in San Mateo, and examined the analgesic efficacy of cannabis on experimental models of neuropathic pain, neuropathic pain from HIV and diabetes, and neuropathic pain of diverse etiology. Additionally, CMCR studies have evaluated the efficacy of cannabis for the treatment of spasticity in multiple sclerosis. These studies were all designed as short-term trials (e.g., acute administration, over the course of a few days). The findings from these studies were reviewed and published in peer-reviewed scientific journals, and showed a convergence of results, in that treatment with cannabis showed a significant improvement in the symptoms of interest, often in participants who did not achieve relief from traditional treatment.
For a listing of current, as well as past studies, please click here.
Education and Information Dissemination
Part of the CMCR mission is to provide timely evidenced-based information to professionals and the public regarding cannabis and cannabinoids, as well as to foster the careers of future generations of basic and clinical scientists who will help develop deeper understanding of the potentials of medicinal cannabis, as well as the interactions of cannabis and cannabinoids on health and social and behavioral functioning.
To this end we engage in a broad range of activities:
Collaboration with Federal and State Entities
Coordination with Federal Agencies
Conducting cannabis studies entails extensive regulatory review that includes the FDA, DEA, and NIDA, as well as state (Research Advisory Panel of California; RAP-C) and local (Institutional Review Boards) entities. When the CMCR was established, the Federal approval process was fragmented, and the timeframe from receipt of funding to full regulatory approval was prohibitive (changes to the protocol requested by one agency then required re-review by the other agencies). In the initial funding period, the CMCR, in coordination with the regulatory agencies responsible for oversight of cannabis research, organized a meeting in Washington, DC, aimed at improving the coordination between these agencies. As a result, the regulatory approvals process was streamlined. The CMCR continues to have ongoing collaborations with officials at both the DEA and NIDA.
Coordination with State Agencies
CMCR has worked closely with California State legislators, regulatory agencies, and law enforcement regarding the development and implementation of research and policy pertaining to the use and impact of cannabis and cannabinoid products. Since the passage of California Proposition 64, CMCR leadership has met with representatives from the Bureau of Cannabis Control, the Medical Board of California, the California Highway Patrol, and the California Office on Traffic Safety, among others.